Hitting the Spot: Our Favorite Polka Dot Pieces
Our style forecasters have spotted a fresh trend, shop keepers. All signs point toward a craving for polka dot women's clothes. The pattern is a stunner that never goes out of vogue for very long. Large or small, black and white or vibrantly colored, polka dot style is currently enjoying a comeback of epic proportions. Tempt your clientele with spotted shorts in the of-the-moment paperbag waist style or a popping dotted top. trend:notes has polka dot fashion in a variety of designs, and every piece is begging for a place of pride in your inventory.
Polka Dot Pleats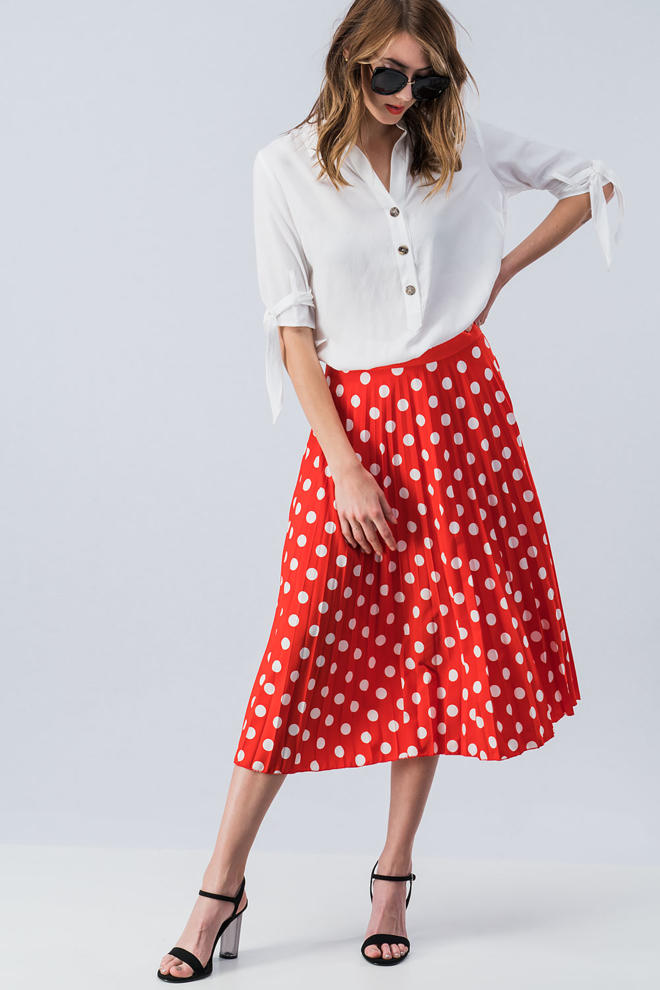 It's hard to settle on a single eye-catching detail about the Knee Length Polka Dot Pleated Skirt. It's one of our most fabulous pieces of polka dot women's clothes for a reason. The length combines with the pattern to form a retro-inspired sensation. All those pleats result in a smooth flow and a wide flare. Style the skirt with a shirt that fits the vintage vibe. Curate a look book of your own with a '60s style theme. It's available in three color palettes, and you'll do well to order it in red, ivory and black, and navy and white. Every combination has its own appeal.
A Little Lace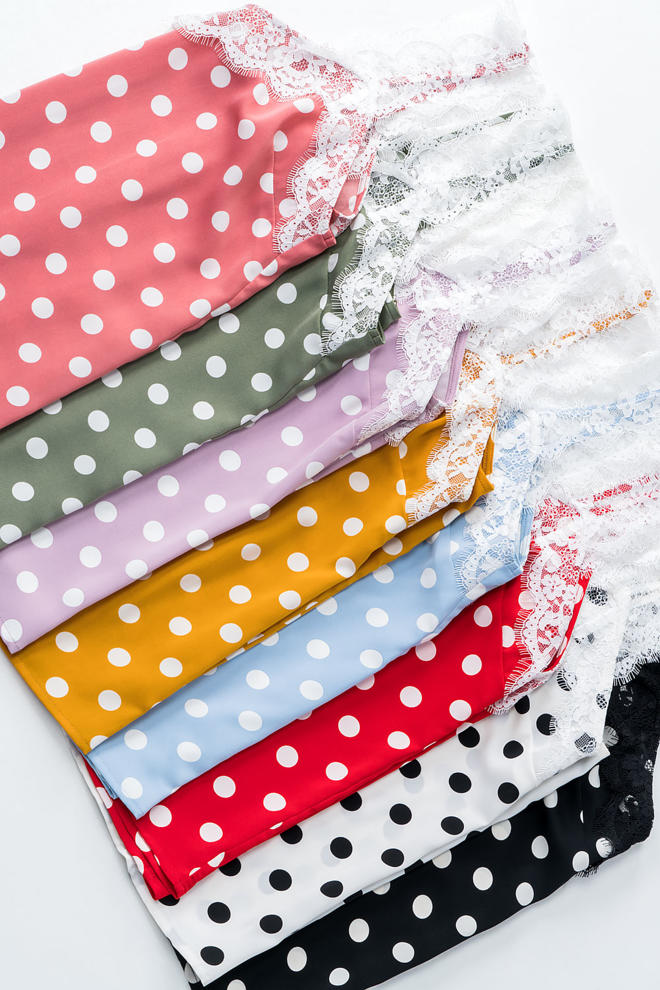 The Polka Dot Cami w Lace Trim is almost too precious for words. Lace adorns the thin straps and the pronounced vee neck of the triangle top. Not all polka dot style has to be out there and extra, although it is the perfect pattern for exuberance. A subtler approach works just as well, however.
Nothing is more versatile than a cami. The print is trendy, the top itself is endlessly adaptable, and the lace accents are just dressy enough that the cami can be part of a formal ensemble. Show your shoppers how to wear the top by itself with jeans or paired with a sleek skirt and a statement cardigan.
Spotted Shorts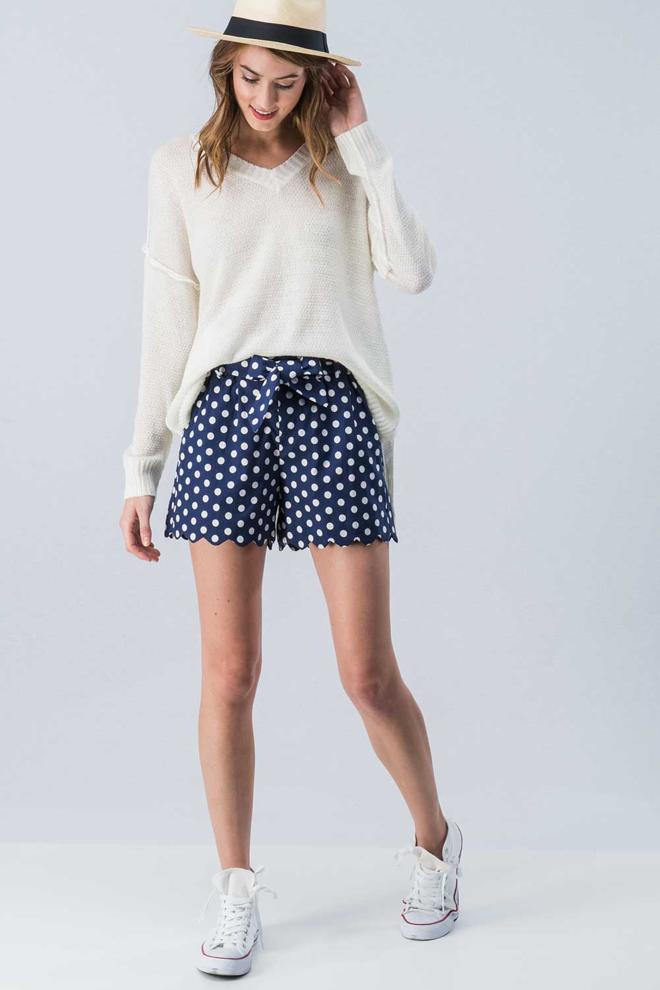 We're absolutely wild about the Polka Dot Paperbag Waist Shorts w Scallop Bottom Edge. Shorts with a paperbag waist have been spotted (see what we did there?) on the spring and summer runways and in the hottest street style editorials. One peek at Insta and the Outfit of the Day fashion blogs reveals that the design is ideal for edgy ensembles, casual looks, and dressy outfits.
Bring your boutique up-to-date by including a two-for-one trend. These shorts stun from top to bottom. The scalloped hems are flared just a bit, enough to have a little flow and movement. Your customers will find that the paperbag waist itself is both comfortable and flattering. Comfort doesn't equate to sacrificing style, however. Between the scallops, the belted bow, and the lively print, the shorts are certain to be an instant hit. For variety, snag all three color combinations: white on black; black on white; and white on navy.
Cream of the Crop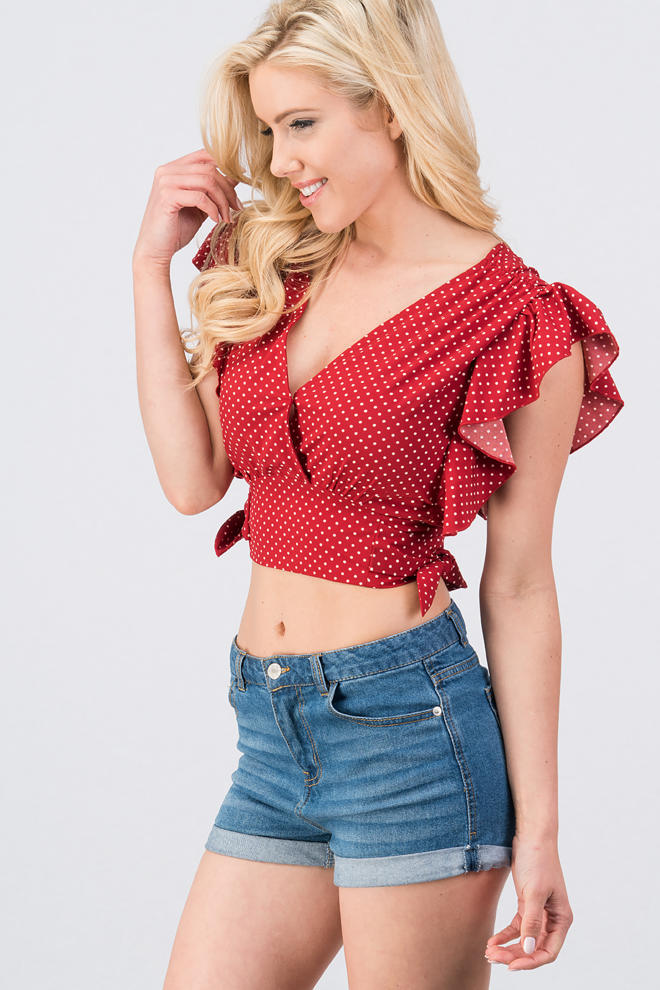 Have you ever seen a cuter piece of clothing than the Polka Dot Overlap Ruffled Crop Top with Knots Side? We bet your client base hasn't either. There's something country chic about the sweet crop. It has Daisy Duke charm, and just as a by-the-way, short shorts are the ideal accompaniment to the top. Pair it with something simple when you show it off in your store. The crop is proof that polka dot women's clothes come in every possible design, but this one has so many eye-catching details that there's no need to overwhelm it with statement bottoms.
The ruffled sleeves are a fun, whimsical touch. The vee neckline balances out the sweetness by being a bit risque—just a hint, though. Owing to the structure of the knotted waist, the top nips in at the midriff. It's a piece that's meant to accentuate, something that you can play up in styling photos that introduce your new inventory. Include every color in your order. Red, navy, and white are all well-suited to the polka dot pattern.
The Boho Route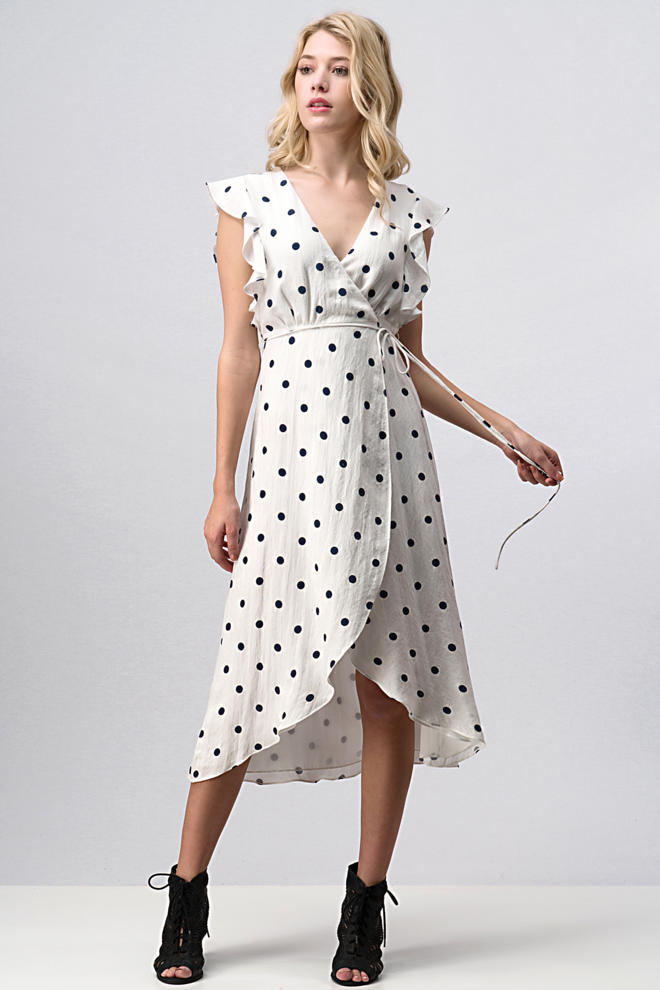 The Bohemian Polka Dot Overlap Dress with Ruffle Sleeves is a hot ticket. It mixes the Boho chic trend with polka dot style, and the results are sensational. A dress like this adds versatility to your stock. It's suitable for a professional environment, the classroom, dates, and semi-formal events and parties. The lightweight fabric strikes a casual vibe, but the ruffled sleeves, the wrap design, and the vee neckline are anything but laid-back. An underpinning gives the skirt a dreamy flow while doing double-duty as a slip. You can get it for your store in navy as well as taupe.
On the Jumpsuit Vibe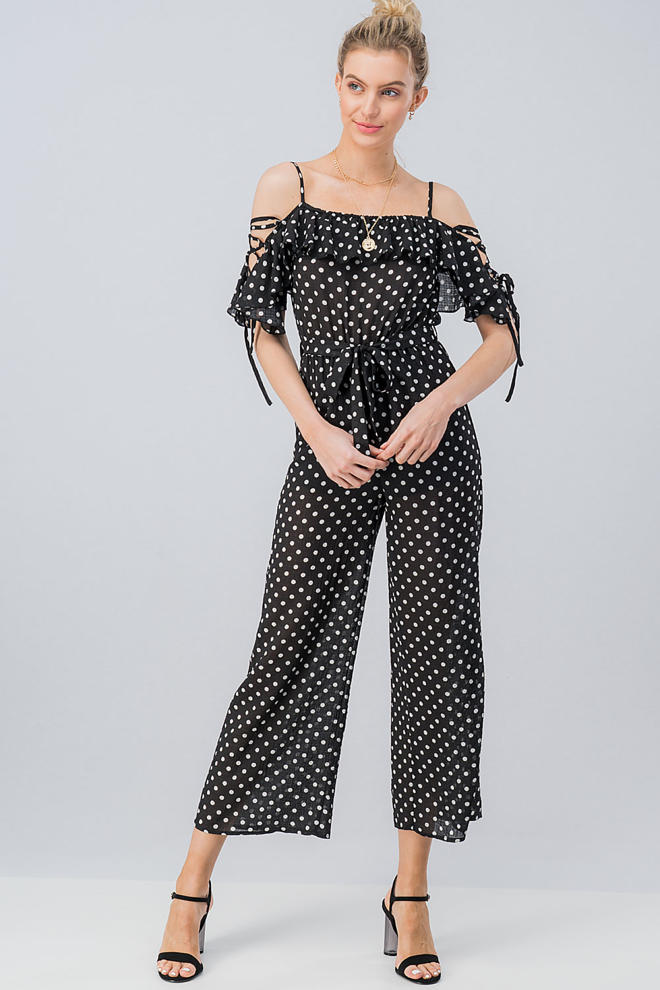 Want to include a statement-maker in your order of polka dot women's clothes? The Polka Dot String Laced Off Shoulder Jumpsuit fulfills that niche quite nicely. As far as current trends go, jumpsuits continue to ride high. According to the fashion forecasters at trend:notes, they're gearing up to get wilder and more visually appealing than they already are. Do you see why our jumpsuit applies?
Its lightweight fabric makes it a top pick for warm weather. Play up the intricacy of the spaghetti straps and the laces of the off-shoulder sleeves when you display the outfit to your audience. Show them all the potential of the jumpsuit, which can work as a fab daytime ensemble or a stunning date night outfit. Grab it in both black and off white.
You can find polka dot women's clothing in a jaw-dropping array of styles at trend:notes. Subscribe for free to get access to our wholesale prices. Signing up also rewards you with a $10 discount on your first order. In addition to that, we're happy to offer instant discounts on large purchases. You'll receive $15 off of orders over $499, while orders that total more than $999 get $35 off the total amount.