Boho Bliss: Stocking Outfits With Hippie Vibes
trend:notes is the go-to source for wholesale Boho clothing that's up-to-the-minute. If you want to stock your clothing shop with trendy wholesale Bohemian clothing that's straight from the catwalk and street-style mags, you need a supplier with an eye for what's coming down the line. Our fashion forecasters don't just know the latest fads; they help to set the trends. Buy Boho clothes from us, and stylish customers will flock to your store so that they can be trendsetters, too. We've compiled a list of ensembles that bring the hippie vibe into the modern era.
Boho from the Bottom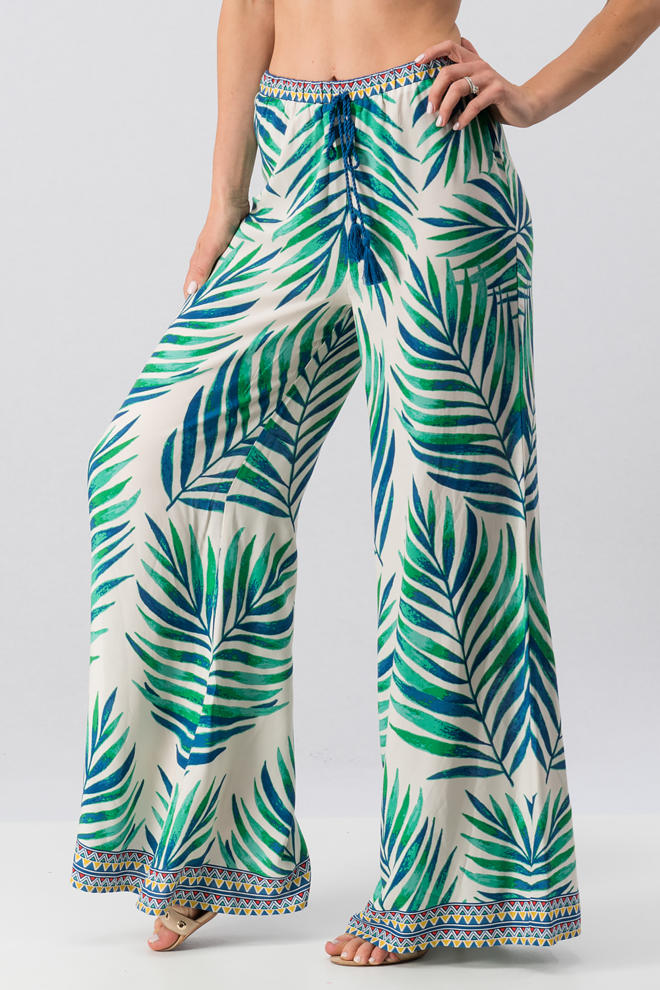 Our latest selection of curated wholesale Boho clothing contains more than just the usual. Offering something unexpected that they won't find at other shops is the secret to pleasing your customers and keeping them coming back every time they need a new outfit. We know that hippie chic ladies need Boho bottoms, not just caftans, dresses, and tops. The Boho Tropical Wide Leg Trousers fill the gap with flair to spare.
The blue-green tropical print will leap out from the other items in your stock. A wide leg silhouette combined with a light fabric guarantees movement and ensures that the wearer won't overheat. Best of all, the colorful, triangle-patterned waistband provides a festive contrast. The tasseled string belt is the icing on the cupcake.
V for Vivacious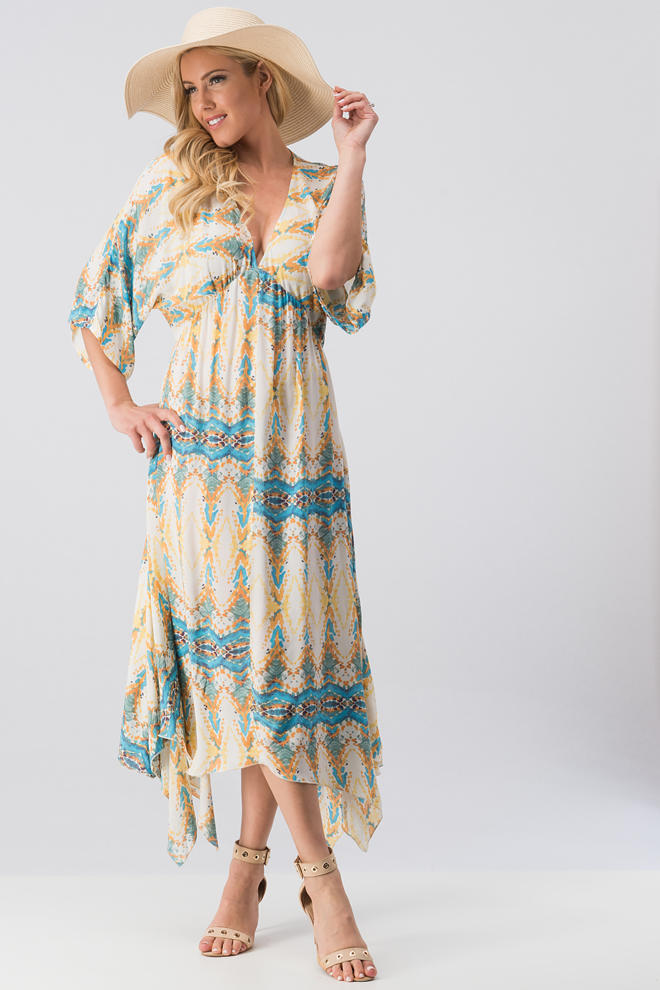 We have wholesale Bohemian clothing that goes beyond the neutral hues typically associated with the trend. The Boho chic style is skewing toward dazzling color palettes composed of vivid hues, such as the long, flowing BOHO Deep V Neck Shark Bite Dress. It's a Boho stunner with full three-quarter sleeves, a V neckline designed to show off cleavage, and a swirling asymmetrical hem. Orange and turquoise create a winning combination that celebrates warm weather. We love the optical illusion of the dress caused by the deliberately stacked seam running down the center. The waistline is a winner, too. Your shoppers will love the flattering fit of this fabulous Boho frock.
Off-Shoulder and On-Point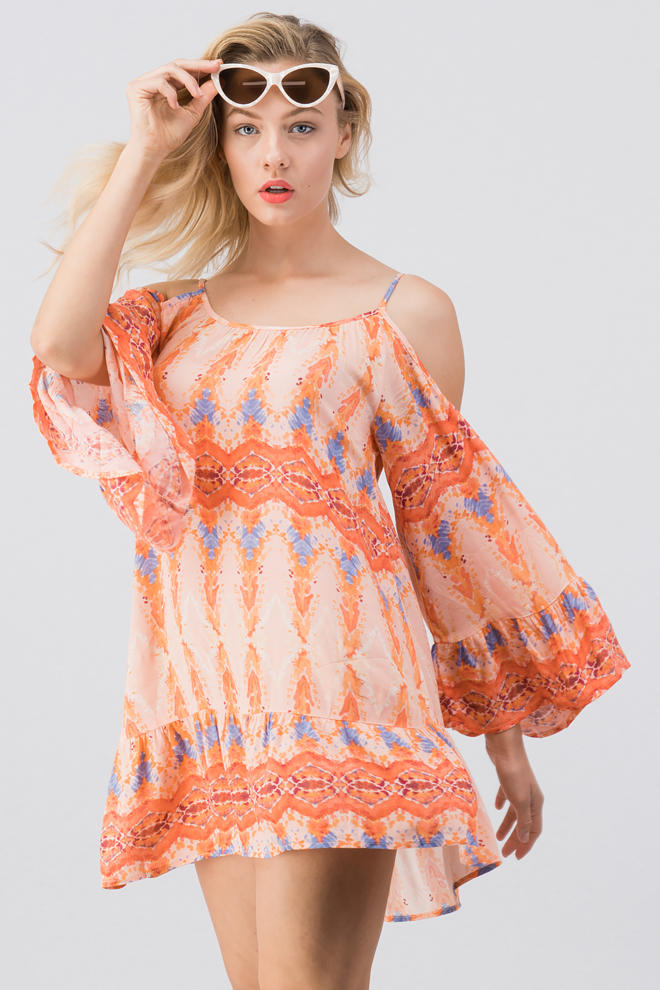 Your customers won't stumble upon a fresher dress than the Boho Print Off Shoulder Ruffled Chiffon Dress with Lining. The mini dress is a must-have pick for spring, summer, and early fall. The print gives off the mere suggestion of tie-dye, adding to the piece's Boho edge. Those full, off-shoulder sleeves are showstoppers. No one with an eye for fashion can resist such dramatic detail. Chiffon is an airy, lightweight fabric, but the lining acts as a built-in slip for convenience. When you highlight your new arrivals, make sure this one stands out front and center.
On the Fringe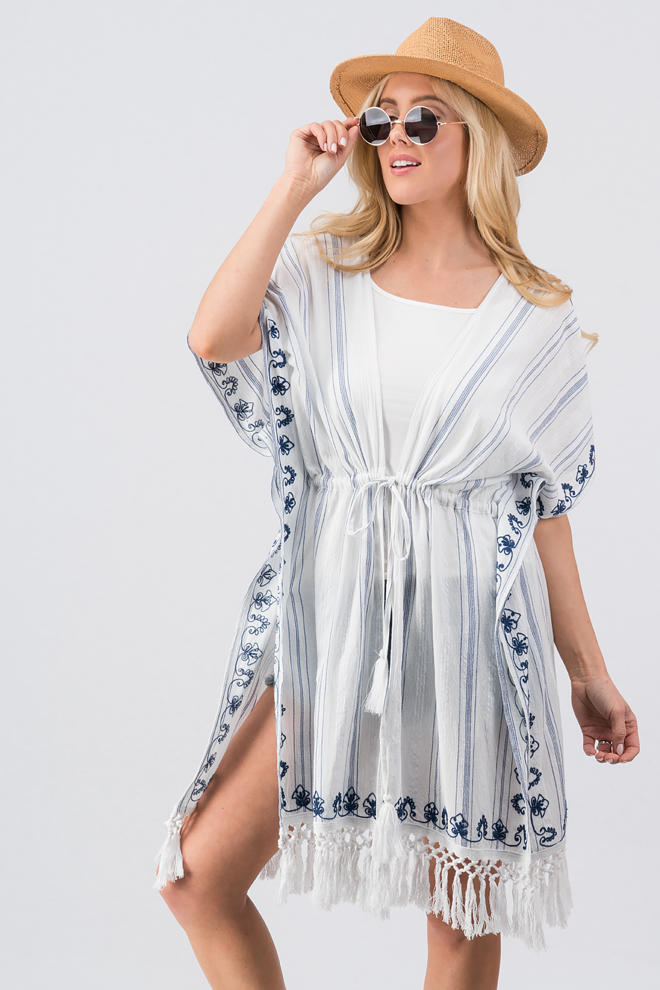 If you're a store owner or a buyer of wholesale Boho clothing who keeps up with the latest trends, then you're aware of what the savvy style forecasters already know: fringe is in. To please shoppers who live on the fringe, stock your boutique with the Boho Embroidered Fringe Bottom Kimono Cardigan. Kimonos fit the Boho chic look no matter what, but the open sleeves, subtle embroidery, and fringed hem all ensure that this cardi is the star of the show. It can work as a statement piece, a swimsuit cover-up, or a comfy dressing gown for lazy weekends. Set up a look book photo shoot to reveal all the possible ways to style the kimono. Pair it with shorts, jeans, and even maxi or midi skirts for a hippie-chic layered look.
A Whole Lot of Dress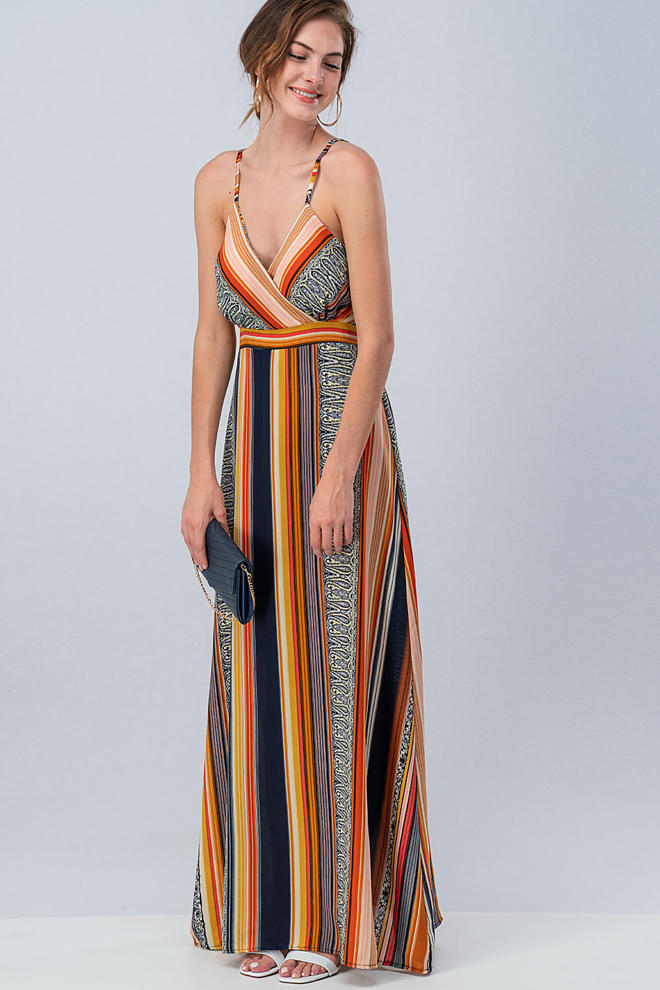 You need at least one of-the-moment stunner of a dress in your inventory. If you're ordering wholesale Bohemian clothing, don't forget that maxi dresses are a mainstay in the trend. See why we're singing the praises of the Boho Stripe Empire Waist Maxi Dress? It explodes with lively colors and patterns. The main palette focuses on shades of blue, gold, orange, and yellow. Hues like those call forth the glam vibes of the '70s, as do the spaghetti straps and the deep vee neck. An empire waist works with every body type, which takes the dress up a level in terms of its appeal. The edgy Bohemians who frequent your shop will go mad for the ankle-length hem, too.
Lace for Days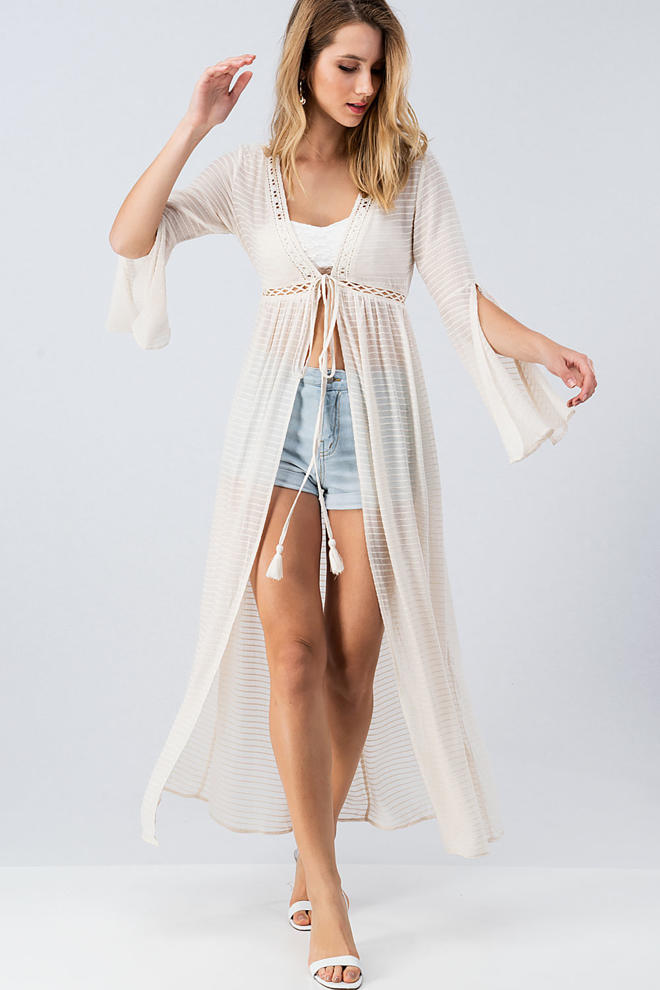 The Long Lace Trim Front Tassel Bell Sleeve Boho Cardigan brings all the drama, but in a pretty, positive way. It's a signature piece of wholesale Boho clothing owing to all that lace. Crochet details along the waist and bodice offer discreet glimpses of skin. The belled sleeves are a beautiful Boho touch, but they're also a bit royal. We can't be the only ones getting Game of Thrones vibes from this sensational cardi. In natural white, it's whimsical. In black, it's a whole other ballgame. Give your customers a choice. Don't be surprised if they end up grabbing the cardigan in both colors.
Don't look anywhere else to discover wholesale Boho clothing with chic charm. Stock your store with the selection available at trend:notes, where you'll find dresses, tops, and trousers. Take a moment to sign up and become a member of the trend:notes community before placing your order. Not only can you save, but you'll also earn access to our wholesale prices.