Green With Envy: Spring Outfits for St. Paddy's Day
It's time to bring out the St. Paddy's Day outfits again, but this year, trend:notes suggests that you try a new tactic. As you choose green women's clothes for your inventory, keep an eye out for items that are ideal for springtime as a whole. There's no reason your shoppers should only wear their dazzling green ensembles one day of the year, not when they can buy dresses, shirts, skirts, and even trousers that prevent any pinching and dazzle throughout the spring.
A Two-For-One Dress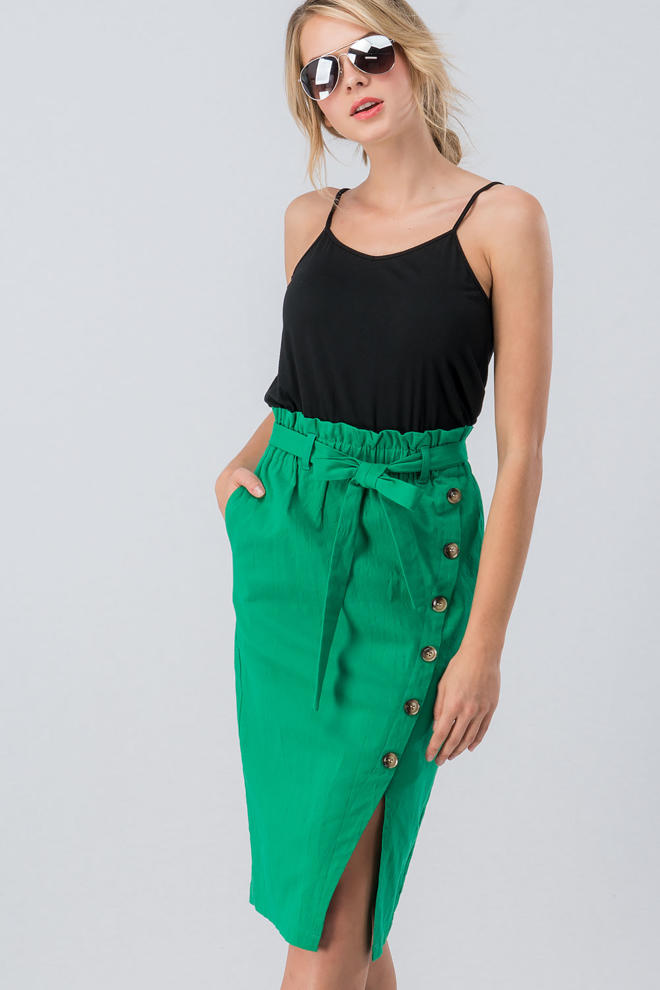 Why not stock the racks with one-of-a-kind St. Paddy's Day outfits that your clientele won't find elsewhere? At trend:notes, we have a fun, funky dress that resembles two separate pieces. The Button Wrap Skirt with Cami Top Dress appears to be a shirt-and-skirt combo. Wrap skirts are timeless, and this one is a lively, eye-catching shade of green that's ideal for the holiday, as well as the entire spring season. The cami top is cute and lightweight. Show your customers how they can layer the dress with a blazer, a cardigan sweater, or a kimono cardi to take it to the next level. Combined with the right shoes and accessories, it's a St. Patrick's Day dream.
A Tempting Tank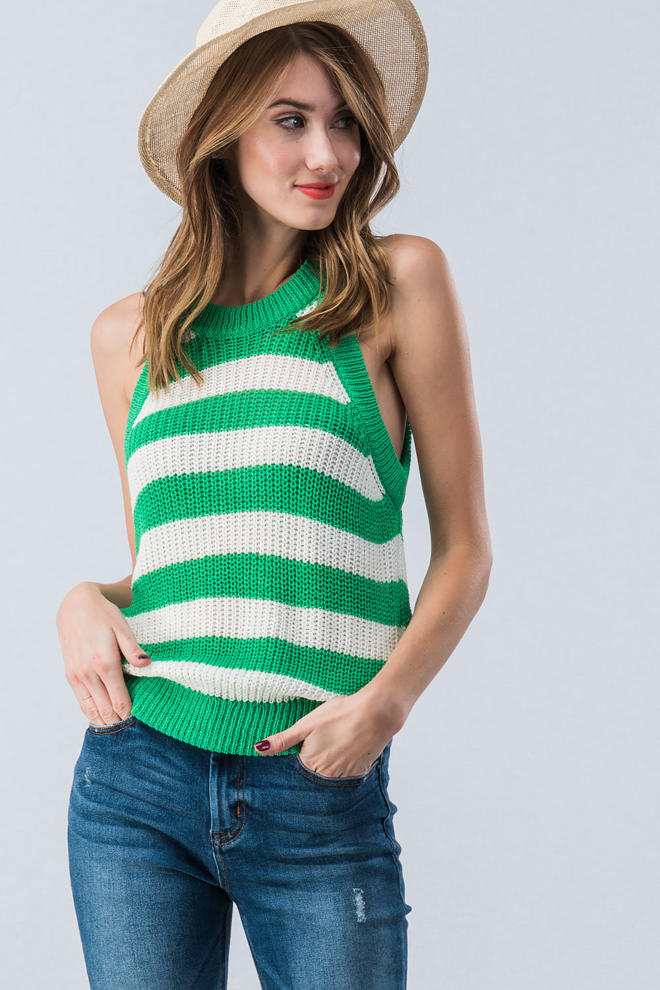 Sometimes, a single statement-making item of green clothing is the only thing necessary. Take our green striped tank top, for example. With the promise of warmer springtime temperatures, tanks go flying off the shelves. Since stripes are on-trend, a versatile piece like this is a winner. Pairing it with different items can change its entire dynamic. With a pair of slim cropped pants, it's fresh and nautical. With fitted trousers in black, tan, or navy, it becomes polished and on-point. A pencil skirt turns it into a show stopping casual-cocktails number. Since it's a tank, it also layers well with sweaters, wraps, and kimonos.
Shamrocks and Shenanigans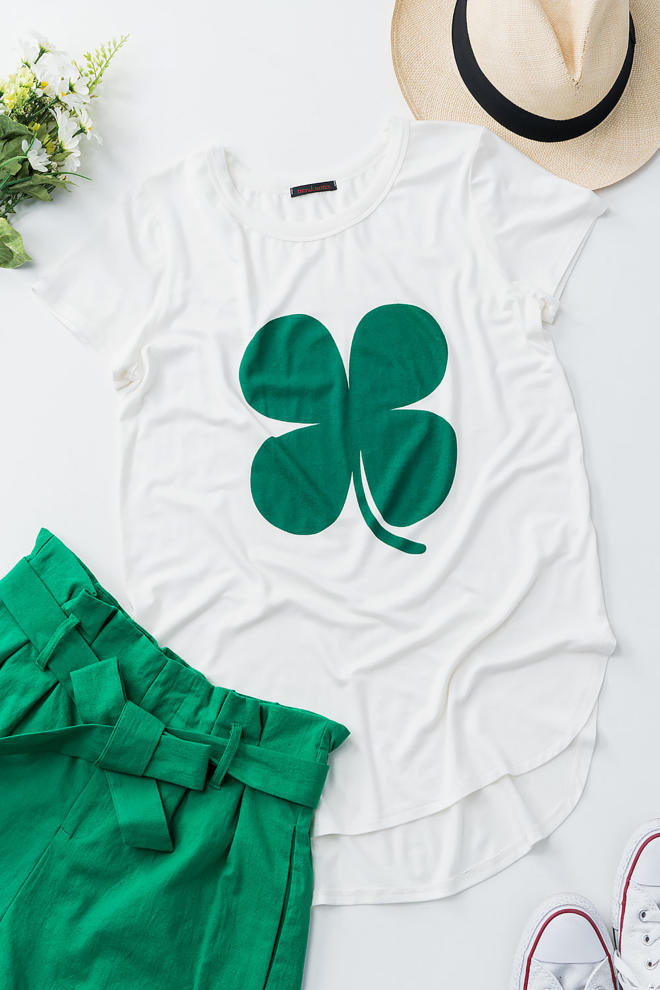 Feel free to stock women's green clothing that gives a cheeky nod toward St. Patrick's Day while still being perfect for spring. Shamrocks symbolize both the holiday and the season, and no one who wears a shamrock risks a pinch. Just make sure you include complementary items in your inventory. Our St. Patrick's Shamrock Short Sleeve Tee is simple but sweet. It's a must-have for anyone with a casual, laid-back aesthetic. We recommend wearing it with high-waist shorts in a matching shade of green, but denim is an unbeatable pick, too. Show your customers how to put together a variety of outfits. Include accessories that go with a relaxed vibe, such as ball caps and sunglasses.
A Different Kind of Button Down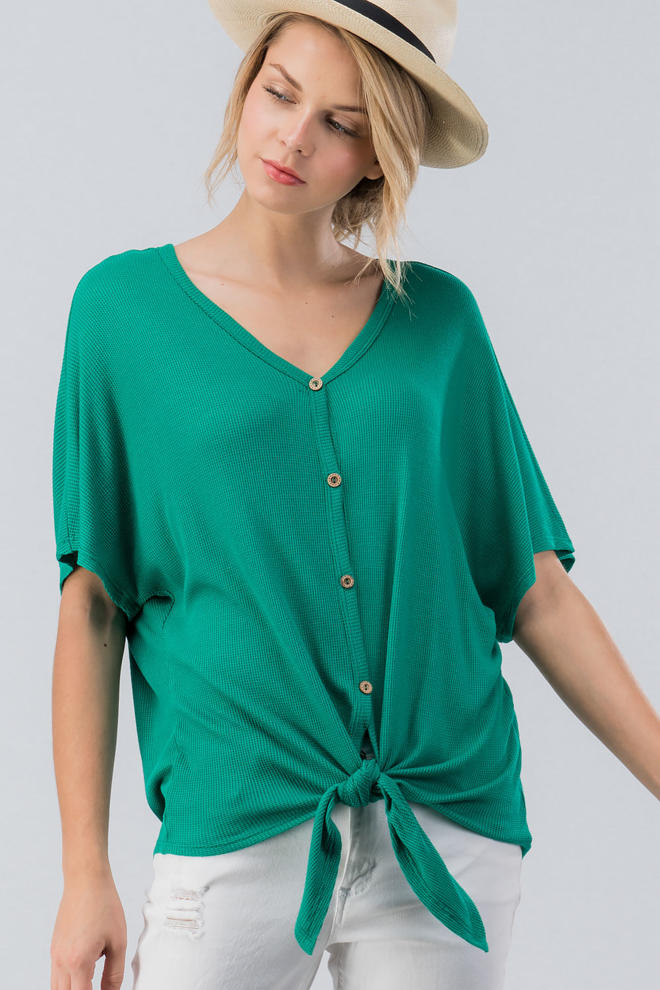 Button downs usually evoke images of crisp, tailored shirts with cuffs and collars. The Waffle Button Down Knot Loose Fit Top from trend:notes is comfortable and loose but still chic and fashionable. It has a careless vibe that suggests effortless style. It's no surprise that the rich green top looks amazing with jeans, but it also goes well with a variety of skirts. Offer up a few maxis and minis, as well as form-fitting pencil skirts-and denim skirts, of course. To provide your customers with choices, snag both the hunter green top and the brighter green version. If you want to think outside the box, mint counts as green, too.
A Dress with Finesse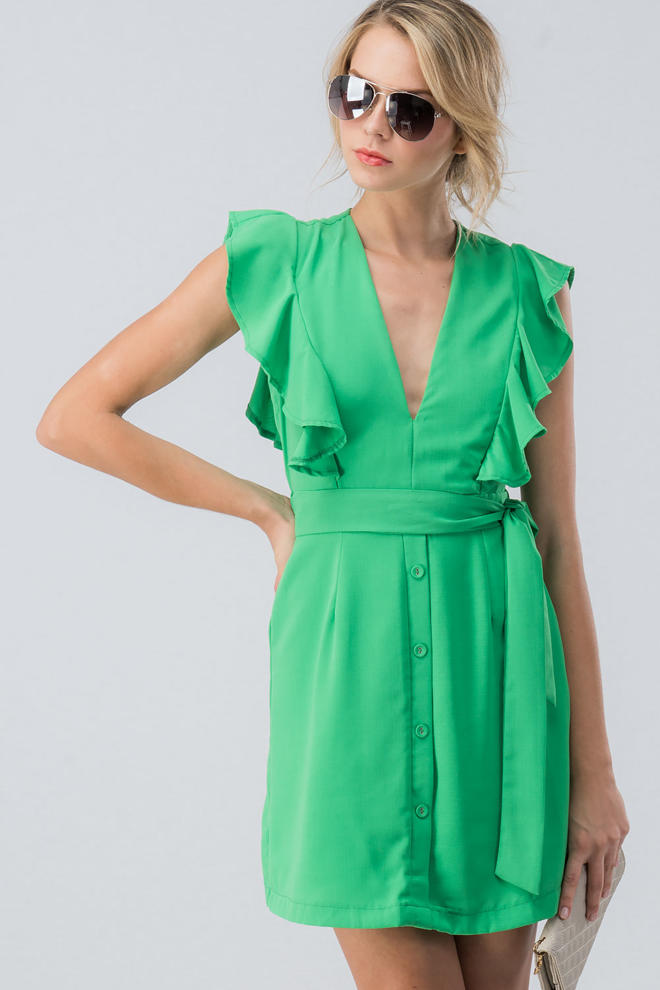 It never hurts to have an array of all-in-one St. Paddy's Day outfits. Dresses are precious, plus it takes no time to put together an ensemble that centers around a fabulous frock. We're just a little bit in love with our Solid Ruffle V-Neck Button Down Mini Dress, which even has a matching belt that ties at the hip, a cheeky detail that turns the dress into a stand-out. From the ruffled sleeves to the artfully structured V-neck, it's an irresistible pick that fits in anywhere, from the classroom to the office to the big St. Patrick's Day party. As for accessories, bracelets are a must. The neckline doesn't need a necklace, but the sleeveless silhouette begs for an arm party or two. Stock up with stacks of bangles and chunky cuffs.
A Little Linen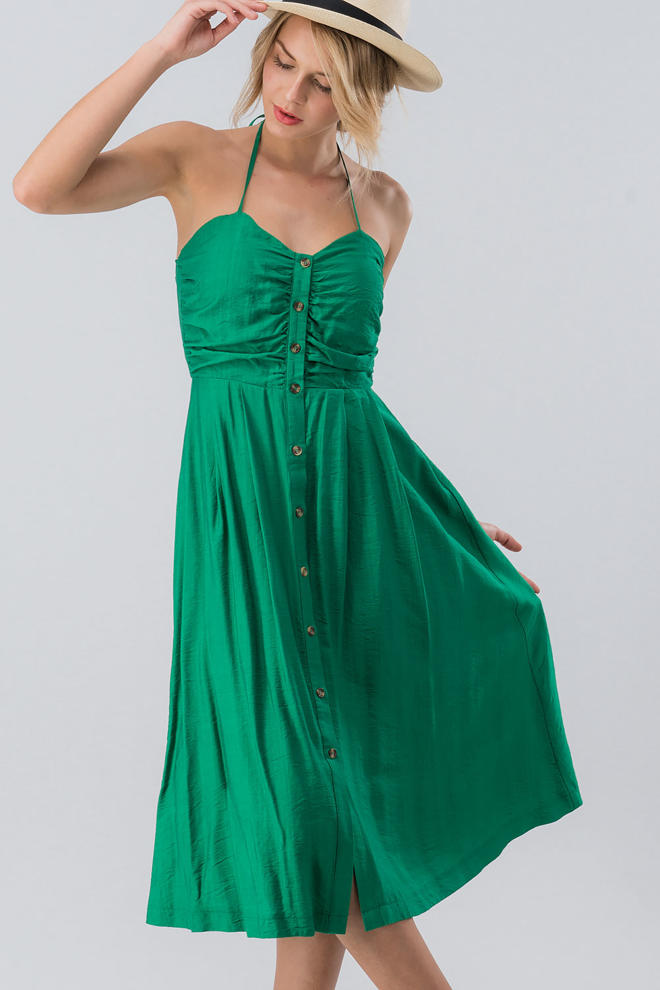 The trendsetters at trend:notes are wild about dresses, resulting in of-the-moment frocks like our Ruched Linen Dress with Front Buttons and Self Tie Halter Strap. Linen is a lovely choice for spring. The best part is that a dress like this can transition directly into summer, too. Since the weather around St. Paddy's Day can be a bit iffy at best, you may also want to offer your shoppers matching sweaters, even if they're lightweight.
Nearly anything will go with this dress, from a fitted blazer to a white lace kimono cardigan. The hem falls below the knee. Along with the halter top, it helps to create a retro-inspired silhouette. The sweetheart bodice lives up to its name—it's beyond sweet. For St. Patrick's Day and spring in general, your customers will love this fresh frock as much as we do.
Gorgeous Green Trousers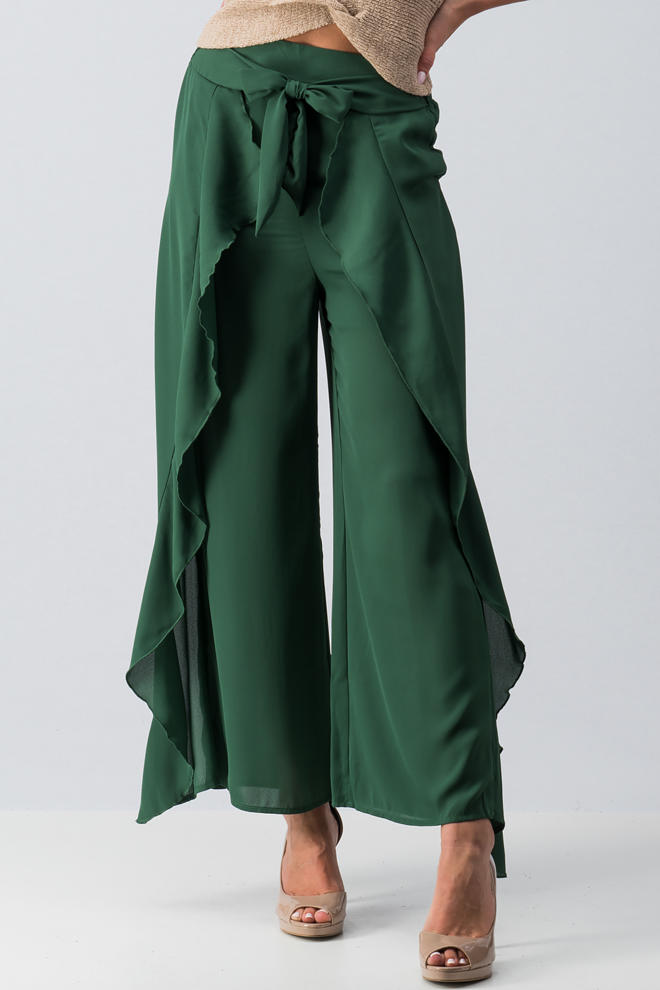 Provide your clientele with something extraordinary as you fill your store with green women's clothes. Pick a piece that stands out from the dresses, skirts, and tops. Green pants will stop the show. Specifically, please your shoppers with our Ruffled Layer Tie Front Wide Leg Trousers. They pop with eye-catching details, such as the tie belt at the waist and the ruffles running down the length of the pants, which fall to the ankles. The dark green shade is warm and rich, but the fabric is breezy and lightweight.
Discover St. Paddy's Day outfits for every aesthetic, and give your shoppers an assortment of spring-friendly items. Delight them with on-trend tips so that they know how to style their St. Patrick's pieces with other seasonal clothing. Sign up for the trend:notes email list and you can get $10 off your first order!