Long Jackets, Shirt Dresses, and Wrap Coats: Smart Looks That Will Up Your Boutique's Autumn Game
The band Cake famously begged for a girl in a short skirt and a long, long jacket, and far be it from trend:notes to deny the charm of that combination. Long shirts for women are on the money, too, however, along with shirt dresses and women's wrap coats. Fill your shops with the defining tops of the fall season. Select stylish outerwear with care, keeping an eye out for structured coats and polished jackets. Double up on sweaters because they're guaranteed to fly off the virtual shelves. Gear up for a fabulous fall season by offering your customers irresistible pieces that follow the can't-miss trends.
Off-Shoulder but On-Point
Our style forecasters are in-the-know, and they're singing the praises of long shirts for women this season. You can please current customers and draw in new shoppers by showcasing some of our Off the Shoulder Sweater Tunics. Off the shoulder sweaters can fall from midriff to mid-thigh, but they're anything but modest with off-the-shoulder silhouettes. Their appeal is in their versatility. Stage an editorial photo shoot that shows how to style sweaters with jeans, pencil skirts, leggings, and trousers. Order in cool weather friendly hues like brick red, cream, mustard yellow, or olive green. Don't limit your wholesale order to only one.
Mad for Plaid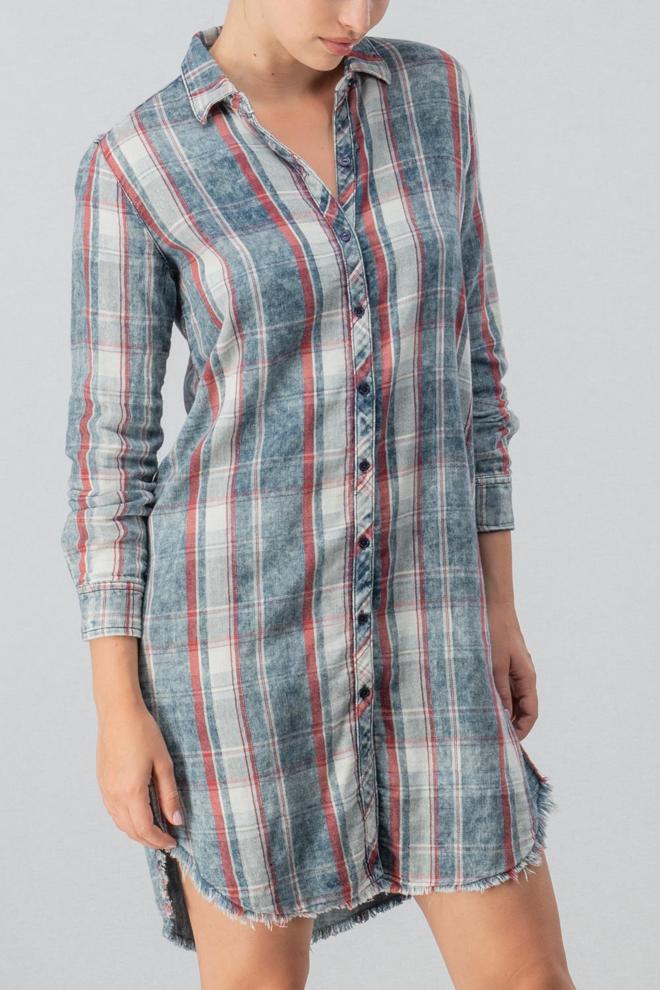 Shirt dresses are a must-have staple in the fall. To tempt your clientele, keep your eye out for styles that are universally flattering. We highly recommend versatile Button Up Dress Shirts. Structured like a button-down Oxford, the lines on such pieces are crisp and ,but the fit is soft, as if it's been perfectly worn-in right off the rack. Plaid is a fall favorite, too, but any classic pattern is sure to catch the attention of customers with an eye for seasonal style. A woman can wear a shirt dress to the office, the classroom, the movies, or a date. When you add shirt dresses to your stock, stage them solo as well as with skinny jeans, tights, or leggings.
That's a Wrap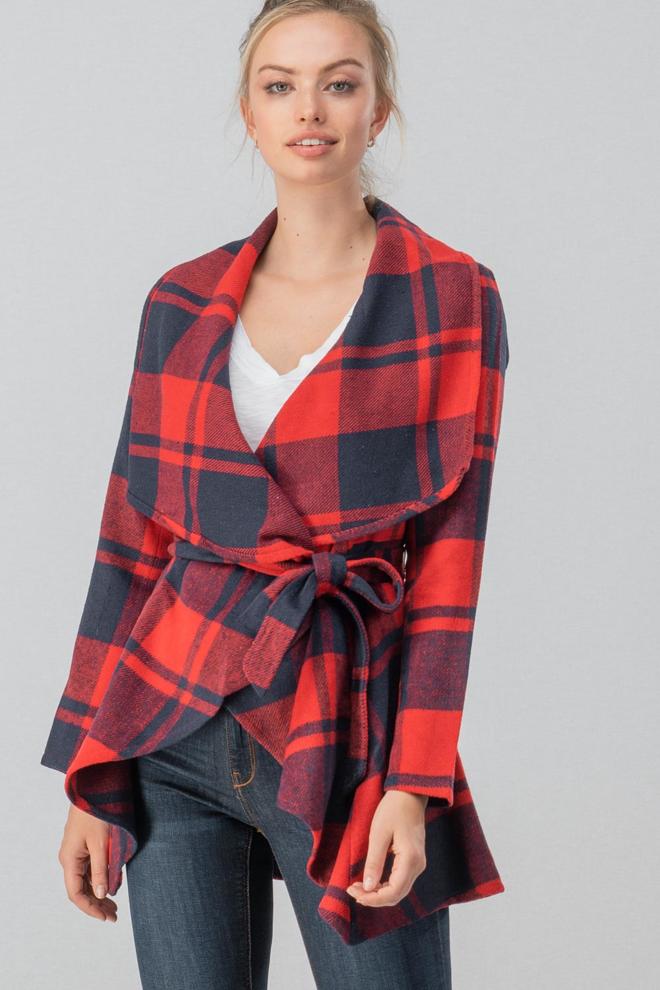 As far as outerwear trends go, women's wrap coats are the bee's knees for fall. A Plaid Open Waterfall Jacket with Tie Belt is the kind of coat that savvy shoppers have no hope of resisting. They're great pieces that can dress up what you're already wearing, or act as a layer for extra warmth. A tie belt ensures a tailored fit for anyone who wears it. Buffalo check colors like red, grey, and black are especially on trend. Trust us when we say that your boutique needs this look.
The Thrill of a Frill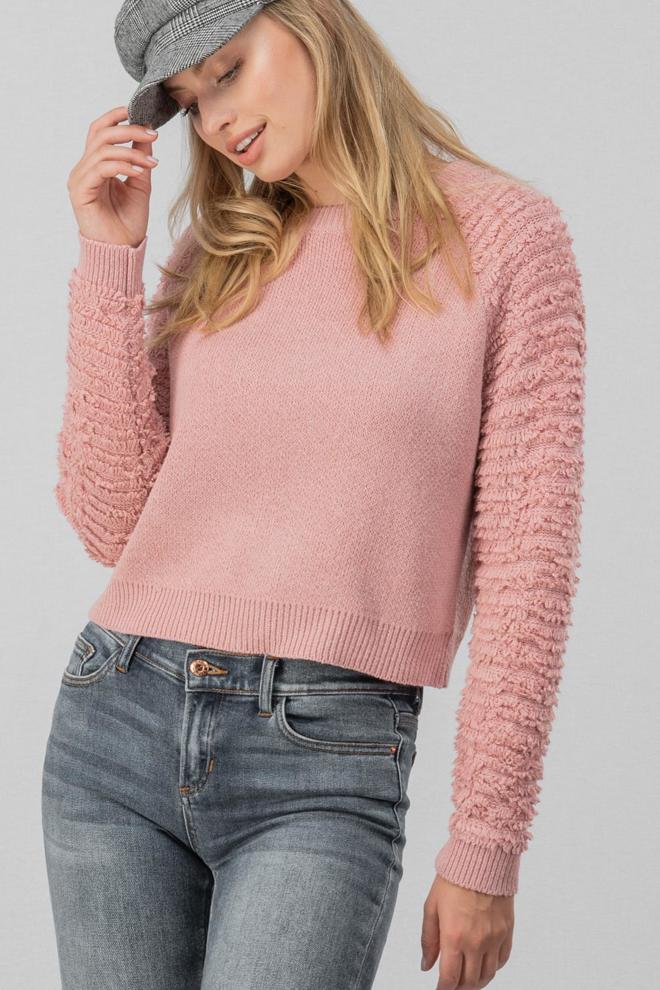 Put a cute Frilly Sleeve Sweater front and center, and it will fly out of your inventory in an instant. Whether it's frilly sleeves, a romantic color, or an embellished bit of glitter, a fancy sweater is a can't-miss transitional piece for autumn. You should stock plenty of long shirts for women, but shorter sweaters have a place, too. Sweaters can dress up a pair of jeans or jazz up a mini skirt. They will be the hit of the season at your store.
In the Trenches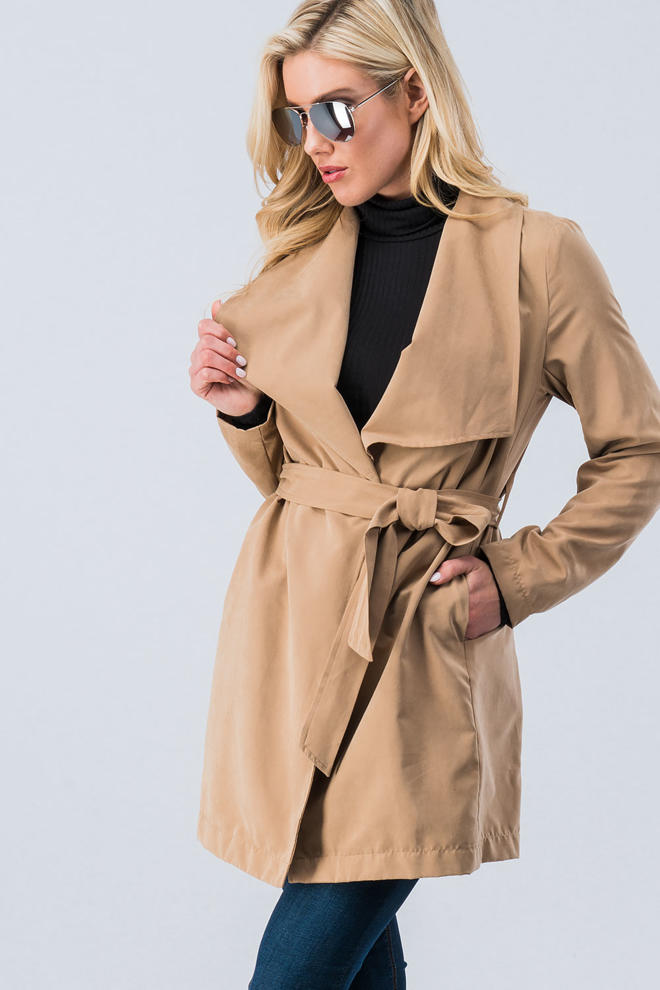 Women's wrap coats in the trench coat style are foolproof bestsellers. A classic beige Jacket has a bit more room to breathe than the average trench. Look to stock a striking trench with a wide lapel, which gives any jacket a glamorous retro vibe. Trench coats are the perfect all-weather piece for fall and going into winter. However, a jacket in this style can effortlessly anchor an entire outfit. Taupe is a top pick, but you can also stock jackets in yellow, rust, and sleek black.
Style In-Vestment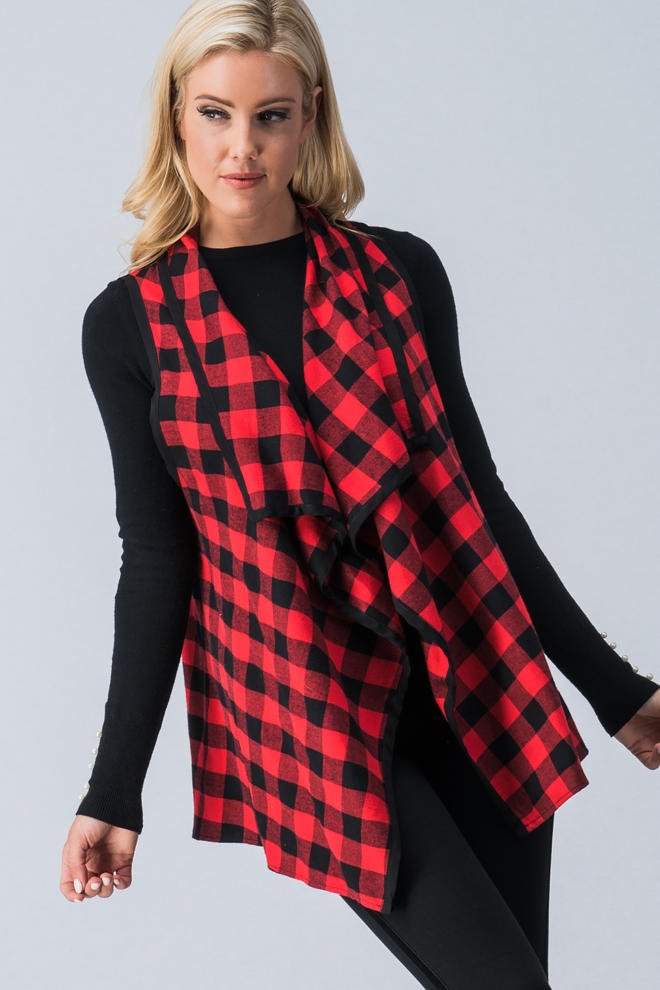 Your inventory will benefit from statement pieces that call out to your clientele. Shoppers love spotting unique items, like a cute Sleeveless Open Vest. These go great with an existing cold weather inventory of plaid apparel. A flowing vest may be the perfect addition. You could even market them as sleeveless cardigans. The open design of such a vest makes it a great finishing touch for any outfit. A vest is both cozy and lightweight, making it an unbeatable transitional piece. Photos can emphasize a vest's appeal as a statement-maker by styling it with leggings, minis or pencil skirts, and turtlenecks.
Prep your shop for fall with jackets, sweaters, and long shirts for women that your customers can't get anywhere else. Set yourself up as the boutique for trendsetters with an eye for fall fashion. Peek at the trend:notes look books for inspiration. You can sign up for free to see our wholesale prices. A subscription also scores you $10 off your order.