The Plus Size Beach Looks You Need This Summer
Good news for shop owners who offer unbeatable attire in plus sizes. You have the opportunity to shop the array of plus size beach wear at trend:notes. Subscribing today—at no cost to you—gives you instant access to our wholesale prices, reserved exclusively for store owners and wholesale buyers. When you sign up, you also score $10 off your first purchase. In other words, there won't be a better time to put together an order of plus size trendy clothing. Check out our stellar summertime selection.
At Rainbow's End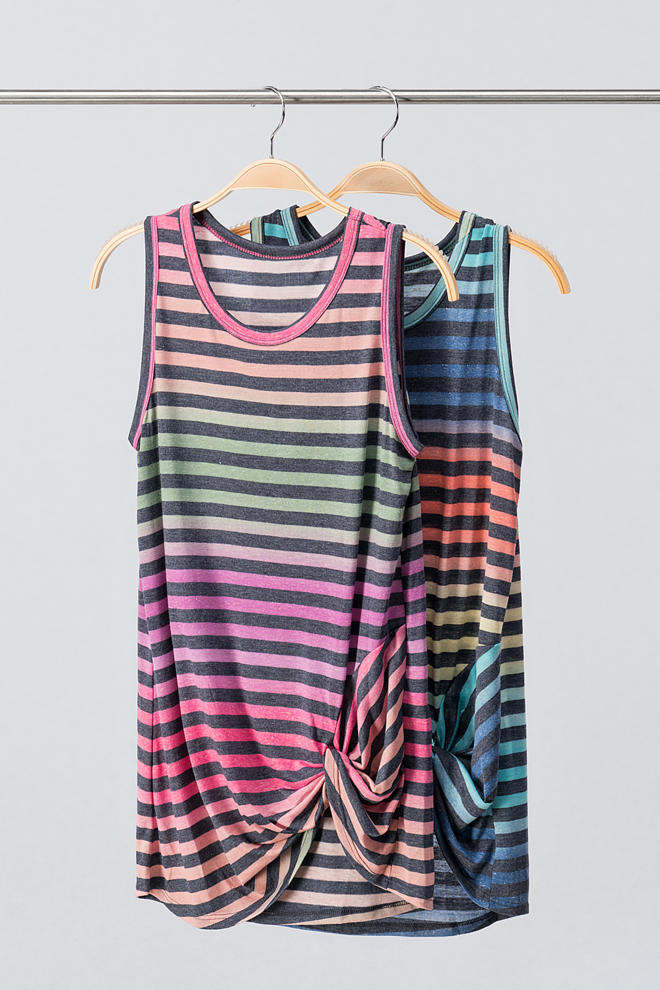 Rainbow palettes are everywhere this season, bold and boisterous. Shop owners who want to keep up with the latest trends will remember that when they order plus size beach wear. Prove to your customers that they can confidently splash out in eye-catching colors and show off their curves. Sleeveless tops and tanks are ideal for warm weather seasons. With that in mind, trend:notes is pleased as punch to suggest the Plus Multi Color Strip Twist Side Sleeveless Top for your summer selection.
The classic tank top silhouette ensures comfort and breathability, which your customers will love when they're at the beach or by the pool. Choose between a pink-toned rainbow and a yellow-tinged spectrum. Better yet, buy both as you place your wholesale order. Put together editorial shots or mannequin displays depicting how to wear the top long and loose or tied at the side. You can show your clientele how to style the top with denim shorts, a linen skirt, or a pair of cropped pants.
A Fair Weather Frock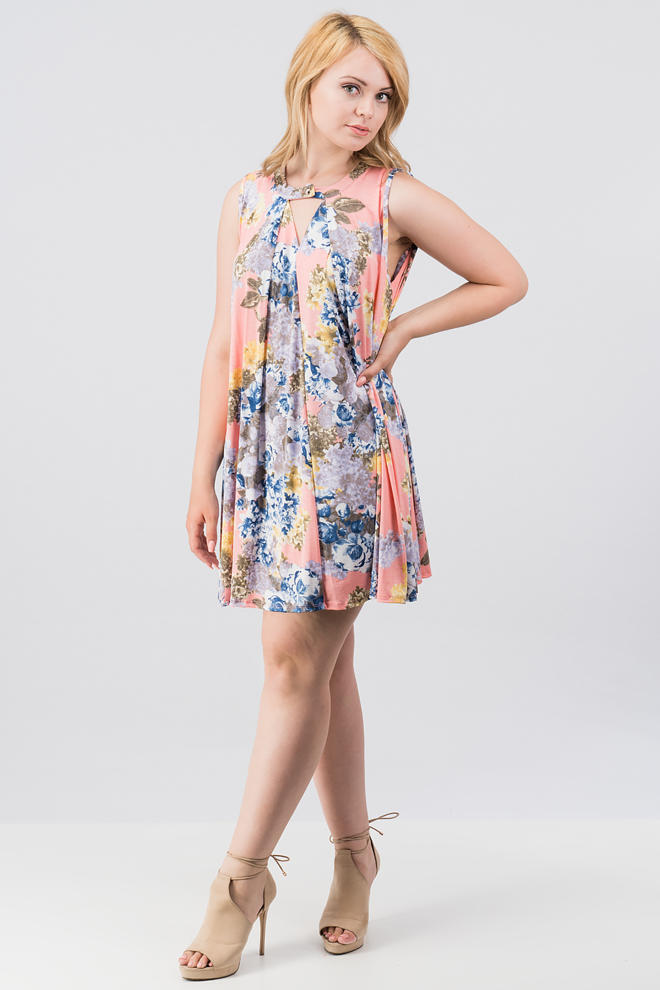 What's fresher than a dress in the summertime? Appeal to the customers who adore the chic, cool appeal of an on-trend frock that they can wear on special occasions or the day-to-day. We have several pieces of plus size trendy clothing that fit the bill, but the Plus Size Pleated Floral Choker Neck Dress is one of our top faves. With its peachy pink palette and its blossoms of blue, gray, and pale lilac flowers, it's a delightful garden dress, a date night stunner, and an everyday must-have, all in one.
Set up your store to become known as the place where trends happen. Choker dresses are on-point for the season, owing to their retro-inspired design and flattering silhouette. The unstructured style of the dress has a flattering effect, and the high neck calls attention to the face. You won't be able to keep this fab frock in stock for long, so think about placing a wholesale order that will tide you over through the season. Your customers will thank you.
High-Fashion Patriotism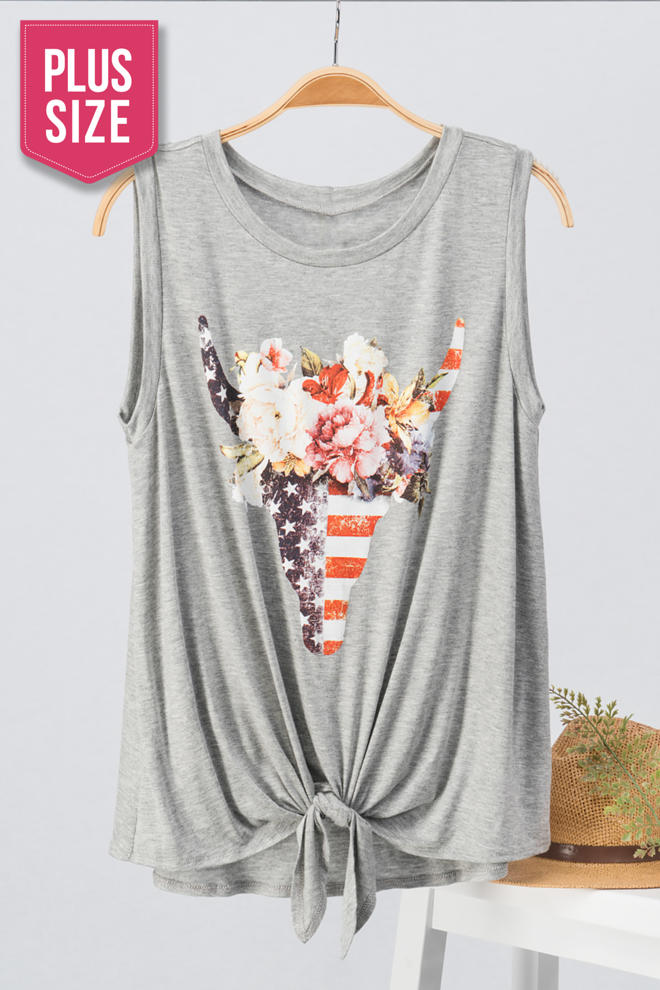 Wholesale buyers with an eye for off-duty looks need to snag the Plus Texas American Flag Knot Tank Top post haste. It's a versatile piece with endless potential. The tie in the middle is cute as can be, but it isn't even the shirt's most eye-catching detail. The graphic holds that honor. From the flower crown to the steer silhouette to the distressed flag print, it hits three trend notes (see what we did there?) in one. Boutique owners and shop keepers can display it alongside equally distressed denim shorts for a signature summer ensemble.
Statement-Making Leggings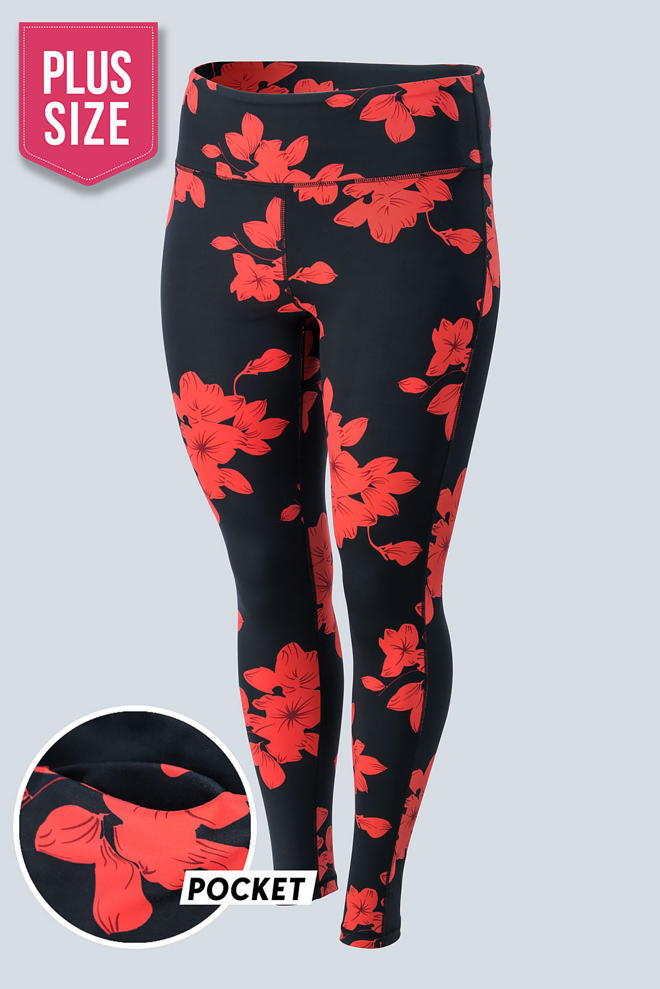 Nothing goes with graphic T-shirts and loose-fitting tank tops like leggings that cling in all the right places. We're partial to our Floral Print Angled Plus Leggings, and we're positive that your clientele will share our affection. Include these vivid leggings in your plus size beach wear collection to give your customers another option for summertime bottoms that go with tank tops, short sleeve shirts, and bathing suit cover-ups.
To be a successful shop owner or wholesale buyer, you need a knowledgeable retail source with an eye for what's hot and what's not. You owe it to your customers to offer fashionable plus size apparel that falls in line with the freshest looks of the day. Subscribe to trend:notes for access to plus size beach wear, dresses, tops, and bottoms.